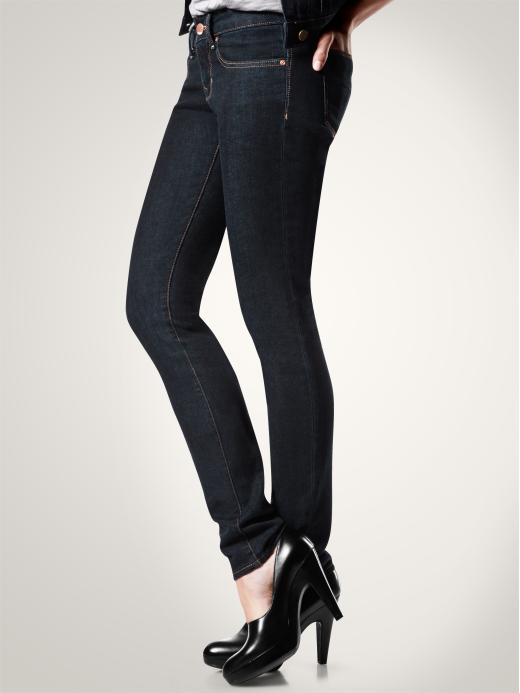 Okay, unless you are my butt twin, you probably still have to. But last night I had some time to kill before I picked my darling fiance up from the airport, so I braved the Esplanade Mall and went to the Gap. I've been wanting some work pants that have a slimmer leg than my current ancient slacks, so I went intending to try on the
True Straight Pant
. Unfortunately, it didn't look good on me at all. The leg wasn't much thinner than my current pants and it was too big in the waist-but I could tell that if I sized down, they'd be too small.
However, when I walked into the store, the salesperson told me that all of their jeans were 40% off that day. I did the logical thing and proceeded to try on every pair of skinny jeans in my size in the store. Then, since they were skinny jeans, I repeated the process with the size above mine. :)
(Does anyone else think it's total crap, by the way, that a given size in pants at the same store is too big in dress pants and too small in jeans?)
Actually, I've found that getting skinny jeans a size larger than my normal size consistently works well for me across brands. I have a very poorly defined waist and I've found that if jeans fit my rear and legs, they dig into my waist and create the dreaded "muffin top." (I also have a total complex about pants even making a line at my waist that you can see through an untucked shirt- I'm crazy, I know. And I never tuck in my shirts b/c it just emphasizes my total lack of a waist.) But anyway, I've found that if I size up on normal pants, the legs and rear are way too baggy once the waist fits comfortably. However, skinny jeans are tight enough that when they fit my waist, they still look good on my rear and legs.
The Gap currently has four options for skinny jeans:
The Real Straight
,
The Always Skinny
,
The Forever Skinny
, and
The Leggings Jean
. (They also offer
the leggings jean with
stirrups
, but jeans with stirrups are an abomination and must be shunned.)
First I tried on the Forever Skinny and really liked it. It's comfortable, very skinny through the legs, but looked good and wasn't too tight through the stomach area. The rise is described as midrise- they were the highest rise of any of the jeans I tried on. (That being said- I'm happy to report that low rise does not mean what it meant a few years ago. None of the pants I tried on were as low as my hip bones, although this may be an artifact of my going up a size in all the jeans I tried.) I initially thought that these would be the jeans I ended up buying. The denim was nice and stretchy, kind of thin, but not so thin that I think they'll wear out too fast. They were very tight through the leg, which doesn't bother me, but my other skinny jeans (from Guess and Banana Republic, by way of Buffalo Exchange) have significantly more leg room than any of the skinny jeans in the 1969 line.
Next I tried on the real straight jeans. These were the most jeans like- they had the thickest denim and the widest leg (although it wasn't wide very wide). These didn't pinch my waist but seemed to have too much room in the front, if that makes sense. The pocket area was oddly bulky, which is something I've noticed about Gap Jeans in the past. These were the only ones I tried that had that problem though- but they were my least favorites of all the jeans I tried on.
Going from one extreme to the next, I tried the legging jeans (sans stirrup) next. The fit was fine but the legs were impossibly tight and I think I looked a little silly in them. Also, the fabric, while stretchy and very very comfortable, was really thin. I don't think that these would be durable, and ultimately, I already own black and grey leggings and don't see a need to own denim colored ones as well. I've seen these in a
context
that looks really great, but they just weren't for me.
Finally I tried on the always skinny jeans. These were very similar to the forever skinny jeans in terms of material and leg tightness but they had a lower rise. I was surprised to find that the lower rise actually looked a little better on me and I ended up getting these jeans. I kind of debated between getting them in regular or ankle length b/c the ankle length was really cute, whereas the regular was slightly long on me. However, if they shrink vertically at all, the ankle would look weird and the regular would fit, so I went with the regular. I'm planning to wear them shoved inside my
awesome tall boots
for the next few months anyway, and if I decide they are too long, I know a good place to get them hemmed.
The price of my jeans worked out really well too. They were 40% off and I had an additional take $10 off coupon, so all in all I got a pair of jeans for $34. Score!
This shopping trip really illustrated to me why it's a good idea to go to a store rather than just buy things online. I think I've blogged about this before but if I order something online and don't like it, I usually just keep it and try to make it work. However, in addition to the 1 pair of dress pants and 9 pairs of jeans I tried on, I also tried on 1 jacket and 5 shirts. I left with one pair of jeans that I really like, but had I been shopping online I wouldn't have bought pants (I know better) but I probably would have ended up with 3 or 4 mediocre shirts. I really hate going to malls and shopping in person, but I think that in a lot of cases, it's worth it.
Do you like to shop online or in person? Would you rather buy tops or pants? (I love tops but buying pants is like pulling teeth for me.)