Emma Watson and her adorable
new pixie cut
are killing me.
I am currently growing out my hair for the wedding and it has been a rocky road. I'm finally past the dreaded "awkward length" but my layers are never quite right and I just don't feel like myself with long hair. It's convenient b/c I don't have to style it (just blow dry and go) and there is always the option of a pony tail, but my short (bobbed, not pixied) hair was also convenient because it took no time at all to dry and although I did have to flat iron it, that only took about a minute. At this point, I'm definitely keeping the hair long for the wedding (b/c I've put too much work into growing it out!) but I'm looking forward to chopping it off, most likely back to a bob, when I get back from my honeymoon!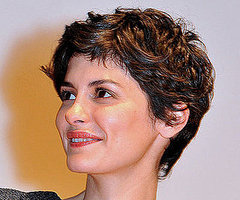 I pretty much lack the guts to cut my hair into a pixie for a number of reasons. I had a pixie cut when I was in 8th grade and while I personally adored it, the thought is stuck in my head that it contributed to my lack of success with guys all through high school- long after the cut grew out. Also, I know my darling fiance prefers that I not get a pixie cut. (He sort of gave me permission once, but I don't think he'd like it at all if I cut my hair like that.) I know it's my hair and I can do what I want with it, but I want to be considerate of his feelings. Especially since I threw a
fit
when he completely shaved off his sideburns and he was totally great about it and immediately grew them back in for me. :)
And finally, I suspect that the reason I love pixie cuts is that I see pictures of them on the few people on earth who look beautiful in them. And while I do have tiny features that are best suited to short hair, I'm afraid that my features are not lovely enough to pull off
such
short hair. So I will just admire the pixie cut from afar and, apparently, write a blog post about it.
Is there anything you want to do with your hair but are scared to do?
I used to be afraid of going blond, but now that I am blond, I love it and have never looked back! And I also used to have pink streaks in the underside of my hair (pre- real world job) that I really liked once I worked up the nerve to get them.